Round Rock Divorce Lawyers
Protecting Your Rights In & Out of Court
At Diggs & Sadler, we know how difficult navigating family law disputes can be. Our Round Rock divorce lawyers have more than 125 years of combined experience helping Texans resolve complex family law cases. At our Round Rock law office, Attorney Kristy Banda leads the way with insight and talents that have earned her multiple recognitions from Super Lawyers® Rising Stars℠.
The divorce process can be incredibly involved and often involves other types of family law issues such as asset division and child custody. Our Round Rock divorce attorneys regularly help clients navigate divorces that include a wide range of complicating factors, such as the presence of foreign citizenships and valuable property.
On This Page:
If you need help navigating your divorce in Round Rock, TX, call Diggs & Sadler today to discuss your situation.
The Divorce Process in Round Rock, Texas
Every divorce is unique, but every divorce in Texas will follow the same steps, more or less. Kristy and our team of divorce lawyers in Round Rock can help you navigate divorce proceedings that are typical, unusual, straightforward, or complicated. You can lean on us for legal counsel and moral support in all situations.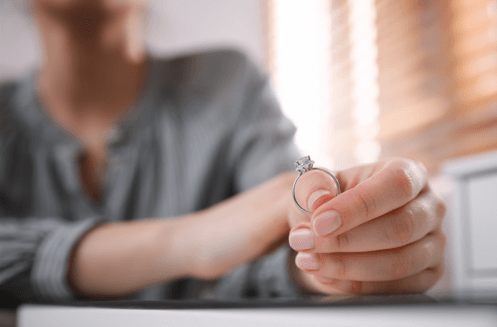 The usual divorce process in Round Rock will include:
Meeting residency requirements: Before you can file for divorce in Texas, you must live in the state for at least six months. To file for divorce in Round Rock, you must also live in Williamson County for at least 90 days.
Filing for divorce: Kristy can help you create the divorce petition, sometimes called divorce papers. This petition outlines what you want from the divorce. Once it is drafted and reviewed, it will be filed with the right family law court.
Serving the papers: The divorce papers must be officially served to your spouse. Otherwise, they could try to deny that they ever received it. Once they get the divorce papers, they have just 20 days to respond. Not sure how to officially serve divorce papers? Let Attorney Banda help you.
Entering discovery: The discovery process of a divorce will consist of cataloging your important finances, assets, and income, and then exchanging that information with your spouse, who will have outlined the same information for you. Kristy will then review the provided documentation for any discrepancies or concerns.
Attend mediation: Most divorce cases will advance with court-required mediation to settle any disputes without the need for litigation. You can count on Kristy to act on your behalf in mediation and to find an amicable resolution for you and your spouse.
Enter litigation: If mediation ends without an agreement—a stubborn spouse might refuse to cooperate at all—then Kristy can advise you whether you should proceed to litigation. Some cases can return to mediation, but others must go to trial, which is riskier and more expensive. She will always look for the most reasonable and beneficial path forward for you.
Should I File for No-Fault Divorce or Fault-Based Divorce?
Your divorce can be filed as no-fault or fault-based. It depends on the specific reasons why you want to end your marriage. Attorney Kristy Banda can discuss with you the best option when you file and how that can influence the case going forward.
What are the differences between no-fault and fault-based divorce?
No-fault: In a no-fault divorce, you and your spouse both agree that your marriage has become "unsupportable," so you would rather end it than spend time and energy trying to repair what can't be fixed.
Fault-based: In a fault-based divorce, you will specifically blame your spouse for wrongdoing that made you feel like a divorce was necessary. Legally recognized forms of fault include cruel treatment, adultery, abandonment, and more.
To keep the divorce proceeding as calm as it can be, Kristy usually prefers to file a no-fault divorce first. If there is good reason to point to a specific form of fault, then the divorce petition can be changed later to fault-based. For example, if you accuse your spouse of stealing from a joint financial account for illicit gains, then it could influence the court when deciding property division.
What Is a Contested Divorce?
When the respondent receives the divorce papers, they can decide to accept it as it is or challenge it. Rejecting even just one part of the divorce papers will make the divorce contested. Further mediation or discussions will be necessary to reach a conclusion, with the potential of the case escalating to litigation.
If the respondent agrees to all parts of the divorce, then the divorce is uncontested. An uncontested divorce can conclude sooner and usually has a lower overall cost than a contested one. If your divorce is uncontested, work with Kristy, who can help take steps to ensure it stays that way as it proceeds.
Additional Divorce Services We Offer
Kristy and her team at our Round Rock family law office would be happy to help you with:
Asset division. Our attorneys will fight fiercely to protect your property and ensure you pursue an outcome that helps you maintain financial stability post-divorce.

Our Travis County based clients often have questions about the splitting of their more complex assets. Read more about:

Child custody. For parents, the prospect of dealing with a legal dispute that could impact the parent-child relationship can be daunting. Our lawyers will advocate for your rights and results that enable your child to thrive.
LGBTQ+ family law. LGBTQ+ individuals sometimes face unexpected complications when dealing with family law cases such as a divorce or adoption. Our lawyers can help ensure you receive fair treatment and work towards an outcome that's right for you.
At Diggs & Sadler, our divorce attorneys in Round Rock leverage a team-based approach to help clients. When you work with us, you gain the knowledge of 12 experienced family lawyers like Attorney Kristy Banda. Whether you need legal counsel that will fight fiercely for your rights in court or help you pursue a more peaceful solution through mediation, our team is here to develop a comprehensive case strategy that suits your needs.
Get Attorney Kristy Banda on Your Side Today
Your divorce will change your day-to-day life. The extent of those changes and whether they feel like good things will depend on how the divorce is handled and how it concludes. Simplify the divorce process and give yourself a fair chance of getting what you want out of divorce by teaming up with our divorce lawyers today.
Contact Attorney Banda online to arrange an initial consultation or call us at (512) 548-8355.
Will my divorce take a while to finish?
A divorce in Round Rock can take a few months, a year, or longer to finish. It depends on the details of the divorce and whether it is contested. When working with Diggs & Sadler, you can take confidence that Kristy and her team will do what they can to avoid any unnecessary delays.
Can I afford a divorce attorney?
We always try to keep our legal rates and attorney fees competitive, so everyone in Round Rock has access to an incredible divorce attorney. Predicting the total cost of a divorce is difficult, though, because every case is different. For example, if a case goes to litigation, then it will include court costs and fees that otherwise would have been avoided. Overall, though, the average divorce in Texas can cost several thousand dollars.
What does common-law marriage mean in Texas?
Common-law marriage in Texas is a form of marriage that does not involve the traditional legal avenues. It can happen when both parties agree to be married, live together, act as if they are married in public, and are legally allowed to be married to one another. Common-law married couples can seek divorces, too, just like any other married couple.
Can filing for divorce affect my taxes in Texas?
Divorce can have significant tax implications, but it can also have a minimal tax impact. Factors like property division, child support payments, spousal maintenance, and more can all make a tax impact after your divorce. For more information, we advise that you consult a tax specialist or tax attorney.
How long do I have to respond to a divorce petition?
You have only 20 days in Texas to respond to a divorce petition once it is officially served to you. If you do not return an official response, then the court will likely default the case in favor of the spouse who filed the petition.